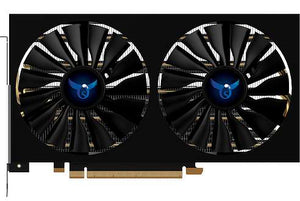 The Osprey Mining™ ECU50 cards
Regular price $1,900.00 Sale
The Osprey Mining™ ECU50 cards, a modified Xilinx Alveo U50, provide optimized acceleration for cryptocurrency mining. Built on Xilinx UltraScale+™ architecture, with150-watt power supply through PCIe riser, the ECU50 includes 872K LUT, 224Mb on-chip RAM, 8GB HBM2, and PCIe 3x16. With the active air cooling, ECU50 can be deployed in crypto mining farms, datacenter servers, or home hobbies PCs.
ECU50 On-Chip HBM
FPGA on ECU50 board has 8GB HBM2, 460GB/s bandwidth (600GB/s overclock), supports most of the crypto memory hard POW algorithms. Current available bitstream: CKB (6ghs), and HNS (1.5ghs). The FPGA development community is devloping Ethash, Cuckaroo29, BeamHashII, MTP, etc.
Compatible with Xilinx Alveo U50
ECU50 is compatible with Alveo U50 and supports most of the U50 applications.
The main difference between ECU50 and Alveo U50:
•ECU50 support 150W power deliver through PCIe riser
•No QSFP ports on ECU50
Active air cooling
Special designed active air cooling, including 3 fans, 4 copper heat pipes, thick layers of copper for fast heat transmission
Availability
ECU50 electrical board is in stock and ready for shipping
Heat Sink portion will be shipped out mid of March
Specifications:
FPGA: Xilinx UltraScale+™ XCU50 FPGA with 872K LUT, 224Mb on chip RAM, 8 GB HBM, 460 GB/s Bandwidth
Configuration: USB (JTAG), Dual SPI Config Flash
Power Supply: 150W through PCIe riser
Interconnect: PCIe Gen3x16, PCIe Gen4x8, CCIX
Thermal: 3 Fans, 6-Pin PCIe power connector, 4 copper heat pipes, Thick layers of copper, fast heat transmission
Warranty: 3 months