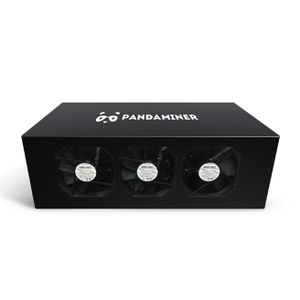 PandaMiner B8 30HX 6G 240MH/s 950W
Regular price $4,600.00 $7,400.00 Sale
Shipping mid May 2021
The price of PandaMiner B8 includes a power supply unit and add $100 for shipping cost.
Specifications
Hash Rate

240MH/s (ETH)±5%

Power 

Consumption

950W +10% (ETH)

Voltage

220 V

GPU Amount

30HX *8 Units

GPU Memory

6G

Cooling

6* fans

Noise

80 dB

Operating 

Temperature

0°C to 40°C

Network 

Connection

Ethernet

CPU

Inter(R) Celeron(R) CPU 3215U @1.70 GHZ

Memory Size

4GB

System type

64-bit operating system, x64-based processor

Operation

system

Minerbabe
Warranty
Once ordered, you've agree with the after-sales policy as follows by default :
1. After an order has been submitted, a request to cancel the order, refund the order, or any change will not be entertained.
2. A 365 days warranty period is provided, but shipping costs during warranty should be covered by customers.
3. The price of miner has to be adjusted frequently according to market fluctuations without advance notice or compensation.
4. After the warranty period, miners can be repaired at the cost of parts and labor.
The following events will void the warranty:
1. Customer removes/replaces any components by himself without receiving permission from PandaMiner;
2. Miner/boards/components damaged by water immersion/corrosion or wet environment.
3. Corrosion caused by exposed circuit boards or components to water and moisture;
4. Damage caused by low-quality power supply;
5. Burnt parts on hash boards or chips;
6. Other damages caused by customers themselves.
Minable coins







Notes:


AS WITH ALL CRYPTOCURRENCY MINING EQUIPMENT THERE ARE RISKS INVOLVED, WE DO THE BEST WE CAN TO PROVIDE ACCESS TO MINING EQUIPMENT AVAILABLE, BUT DO NOT AND CAN NOT GUARANTEE THAT ANY EQUIPMENT WILL BE PROFITABLE, ALL PROFIT/LOSS POTENTIAL MUST BE DETERMINED BY THE PURCHASER OF ANY OF THIS TYPE OF EQUIPMENT. HOWEVER, PROPER DECISIONS REGARDING MINING EQUIPMENT CAN BE SAFE AND PROFITABLE, THIS IS THE SOUL RESPONSIBILITY OF THE  BUYER/OWNER OF SAID EQUIPMENT AND NOT HASHDEPLOY.NET AND ITS AFFILIATES 
Please allow 30 day delivery time on all preorders depending on batch and ship dates, next day shipping once received from manufacturer is always our goal. Once the unit is signed for you own it and are responsible for the equipment. No warranties besides manufacturer's, the seller assumes no responsibility for equipment once delivered.