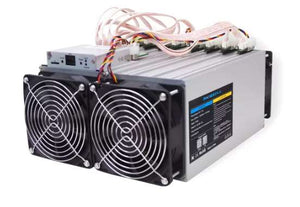 Innosilicon A8+ CryptoMaster 240Kh/s
Regular price $4,700.00 $900.00 Sale
Shipping 5-7 days
Choose Second Hand (used) or New
All second hand units sold "as is" condition. 90 day warranty.
Our partnership with Inno saves you on shipping costs and headaches!
Innosilicon, the worldwide leader of cryptocurrency mining ASIC manufacturer, just unveiled the world innovative cryptonight miner, the A8+ CryptoMaster, which is a huge leap forward against the existing condition. And it will lead the future market with unbeatable price and performance.




As everyone knows, Innosilicon A8+ CryptoMaster has many virtues in all aspects:
·  240KH/s High Efficiency -- Earlier release time is far ahead of the nearest competitors.
· Ultra-quiet Operation -- You can just use it at home without any noise.
· Algorithm CryptoNight -- Suitable for mining many currencies on this algorithm, include XMC, ETN, KRB, DCY. 
· Excellent Cooling -- The housing is made of high quality aluminum alloy, active cooling by two fans per tube.
· Compactness -- The miner is made in a compact housing, and is also light enough, making it an ideal solution in all locations.
· Reliability -- For each Innosilicon A8+ will be installed a 180 days' warranty, which comes into effect from the date of delivery.
· Simple interface -- Plug and play. Do not need to have any special skills or knowledge in the field of mining
240KH/s is pretty ahead of other miners on this algorithm. Besides, the A8+ owns huge competitive advantage, such as low power consumption, high power efficiency, compact time-tested design and so on. As a result, A8+ can significantly reduce the operating cost and bring higher ROI.

 Innosilicon A8+ is fully tested and open for order now! Delivery time starts from 16th April, 2018 with superior 180 days' warranty. First order, first served! Don't miss it!
Minable coins

Notes:


AS WITH ALL CRYPTOCURRENCY MINING EQUIPMENT THERE ARE RISKS INVOLVED, WE DO THE BEST WE CAN TO PROVIDE ACCESS TO MINING EQUIPMENT AVAILABLE, BUT DO NOT AND CAN NOT GUARANTEE THAT ANY EQUIPMENT WILL BE PROFITABLE, ALL PROFIT/LOSS POTENTIAL MUST BE DETERMINED BY THE PURCHASER OF ANY OF THIS TYPE OF EQUIPMENT. HOWEVER, PROPER DECISIONS REGARDING MINING EQUIPMENT CAN BE SAFE AND PROFITABLE, THIS IS THE SOUL RESPONSIBILITY OF THE BUYER/OWNER OF SAID EQUIPMENT AND NOT HASHDEPLOY.NET AND ITS AFFILIATES
Please allow 30 day delivery time on all preorders depending on batch and ship dates, next day shipping once received from manufacturer is always our goal. Once the unit is signed for you own it and are responsible for the equipment. No warranties besides manufacturer's, the seller assumes no responsibility for equipment once delivered.