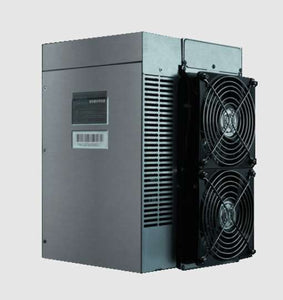 Goldshell KD5 18Th/s 2250W
Regular price $2,500.00 Sale
Please add $100 flat rate ship fee to each order total at checkout
Stock shipping now second hand

Model KD5 from Goldshell mining Kadena algorithm with a maximum hashrate of 18Th/s for a power consumption of 2250W.
Specifications

| | |
| --- | --- |
| Manufacturer | Goldshell |
| Model | KD5 |
| Release | March 2021 |
| Size | 200 x 264 x 290mm |
| Weight | 8500g |
| Chip boards | 3 |
| Also known as | Kd5 Kadena Miner |
| Noise level | 80db |
| Fan(s) | 2 |
| Power | 2250W |
| Voltage | 12V |
| Interface | Ethernet |
| Temperature | 5 – 35 °C |
| Humidity | 5 – 95 % |
| Additionnal infos | Kadena algorithm |
Minable coins

Notes:
AS WITH ALL CRYPTOCURRENCY MINING EQUIPMENT THERE ARE RISKS INVOLVED, WE DO THE BEST WE CAN TO PROVIDE ACCESS TO MINING EQUIPMENT AVAILABLE, BUT DO NOT AND CAN NOT GUARANTEE THAT ANY EQUIPMENT WILL BE PROFITABLE, ALL PROFIT/LOSS POTENTIAL MUST BE DETERMINED BY THE PURCHASER OF ANY OF THIS TYPE OF EQUIPMENT. HOWEVER, PROPER DECISIONS REGARDING MINING EQUIPMENT CAN BE SAFE AND PROFITABLE, THIS IS THE SOUL RESPONSIBILITY OF THE  BUYER/OWNER OF SAID EQUIPMENT AND NOT HASHDEPLOY.NET AND ITS AFFILIATES 
Please allow 30 day delivery time on all pre-orders depending on batch and ship dates, next day shipping once received from manufacturer is always our goal. Once the unit is signed for you own it and are responsible for the equipment. No warranties besides manufacturer's, the seller assumes no responsibility for equipment once delivered. All pre-order units specs are estimated and do not reflect final product.  
Once the unit is in shipment the buyer assumes responsibility for equipment. The buyer is now the owner and is responsible for the equipment. No warranties besides the manufacturer's, the seller assumes no responsibility for equipment once shipped and there are absolutely no refunds for any reason due to the nature of this equipment overall. Second Hand equipment is sold "AS IS" and there will be no refunds, Period
NOTE: The price of cryptocurrency mining machines has to be adjusted frequently in accordance with variables like the exchange rate of the cryptocurrency with fiat, the cryptocurrency's network difficulty, or the expected difficulty increase. Refund requests based on price changes WILL NOT be honored.
We will not be held responsible for ANY shipping issues, (lost or damage items in shipment). All shipments will be provided a tracking number immediately following shipping notification unless otherwise stated.
All contracted delivery of "pre-orders" is governed by the manufacturers shipping parameters of that unit. All "pre-order" units specs are estimated and do/may not reflect final product.  
All customs and duty taxes are the buyers responsibility on direct shipments as well as shipment through our warehouse. Any subsequent orders will be held until duties are paid in full. The recent large increase in duties taxes has prompted these changes. Unfortunately we are unable to cancel an order that has not yet shipped.