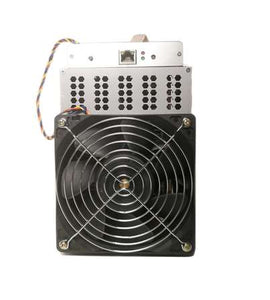 Blackminer F2
Regular price $2,450.00 Sale
Delivery time (shipped):September 2021

no power supply included.
The power supply requirements: DC 12V output, power greater than 1400W.
Blackminer F2 contains two hashboards, which upgrades the hardware design of the previous Blackminer product series.
Blackminer F2 continues the stable and powerful performance of Blackminer F1-Ultra, and improves the structure of the equipment. The new model has a more reasonable stress and heat dissipation, which enables longer service life.
By applying new core chip, some algorithms are optimized and improved.
(Note: The published algorithm performance will fluctuate by ±5%.)
| Algorithm | Hashrate | Power |
| --- | --- | --- |
| 0xtoken | 27.4 Gh/s | 885 W |
| DigiByte(odocrypt) | 6.6 GH/s | 1202 W |
| K12 | 65.88 Gh/s | 912 W |
| kadena | 67.6 Gh/s | 682 W |
| tellor | 9.99 Gh/s | 712 W |
| qitmeer | 29.0 Gh/s | 911 W |
Parameters
Power Supply:DC 12V
Power:Supply power >1400W is recommended
Volume:430mm × 290mm × 240mm(with package)
360mm x 140mm x 200mm (bare)
Weight:3.5kg(net)
Operating ambient temperature:-20℃ ~ 30℃