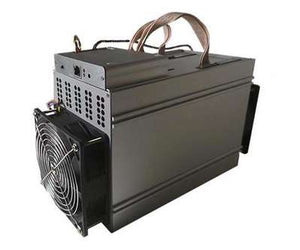 Blackminer F1-Ultra
Regular price $2,200.00 Sale
Ships April 2020
| Algorithm | Hashrate | Power |
| --- | --- | --- |
| Veriblock | 15.5 Gh/s | 700 W |
| Verus2 | 372.0 Mh/s | 494 W |
| CKB | 26.5 Gh/s | 1137 W |
| DigiByte(odocrypt) | 5.75 Gh/s | 1157 W |
| K12 | 61.2 GH/s | 850 W |
| kadena | 12.33 GH/s | 890 W |
| handshake | 4.32 GH/s | 706 W |
Blackminer F1-Ultra contains 2 hashboards, which upgrades the hardware design and product structure of Blackminer's previous product series.
Core Hardware Upgrade
The upgraded core chips are used to improve the performance by more than 20%. The machine performance is more stable and powerful.
Better Algorithm
The algorithms are optimized, and the optimization rate of different algorithms can reach 5% to 15%.
The algorithm performance may be different by ±5% as published.
Structural Optimization
A major change of overall structure of the equipment is completed, which makes the whole machine more reasonable in terms of force and heat dissipation. The transport failure rate in the producing area is only 0.1% ~ 0.2% at present.
No power supply included.
The power supply requirements: DC 12V output, power greater than 1400W.
Parameters
Power Supply:DC 12V
Power:Supply power >1400W is recommended
Volume:430mm × 290mm × 240mm(with package)
360mm x 140mm x 200mm (bare)
Weight:37kg(net)
Operating ambient temperature:-30℃ ~ 40℃
Miner Purchase
1. Blackminer F1-Ultra priced and sold in US dollars. BTC/USDT/DGB are accepted as payment. The BTC price is according to CoinDesk BPI real-time exchange rate settlement.
2. The order can not be cancelled after customer completes the order and pays the order successfully.
Notes: