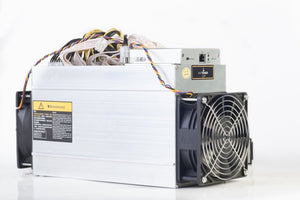 Antminer S9j 14TH/s
Regular price $800.00 $500.00 Sale
The BM1387 ASIC Chip
The world's first bitcoin mining ASIC based on the 16nm process node
Bitmain's BM1387 chip is built using TSMC's 16nm FinFET technology and, delivering a record-breaking 0.098 J/GHs, is the world's most efficient bitcoin mining chip in the consumer market.
Each Antminer S9 employs 189 such chips to deliver more hashrate and efficiency than any bitcoin miner ever made.
A Compact Time-tested Design
World's most powerful bitcoin miner, yet smaller than many portable boom-boxes
The Antminer S9 follows the same form factor as that of the hugely popular Antminer S7 and is nearly the same size. Yet it has more than thrice the power and twice the efficiency of the S7.
Each Antminer S9 employs 189 such chips to deliver more hashrate and efficiency than any bitcoin miner ever made.
Controlled by a Dual ARM® Cortex®-A9 Microprocessor
S9's control board uses a Xilinx® Zynq®-7000 series FPGA with a Dual ARM® Cortex®-A9 microprocessor
Bitmain's engineering team understood the importance of every detail while working to make the world's most power-efficient yet powerful Bitcoin miner. The Antminer S9's control board employs the fast Dual ARM® Cortex®-A9 microprocessor with CoreSight™ and supports Gigabit Ethernet to ensure that mined blocks are submitted instantly.
Engineered to Remain Powerful Yet Cool
A high-grade aluminium case, customized heat-sinks and two computer-controlled fans to keep it cool
The S9 utilizes a combination of conduction and convection cooling to make the world's most powerful miner perform best without getting hotter than any other terahash bitcoin miner.
Every chip of the S9 is fitted with custom-made heat sinks that are made of a high-grade Aluminium alloy. The case of the S9 is made of the same material. Two computer-controlled high speed fans on both ends of the "tube" ensure that the hot air is rapidly replaced by cooler air at the required pace.
Ease of Use
Antminer's user interface has been carefully designed keeping in mind the needs of our users
After you have accessed the Antminer's user interface, all you have to do is to enter your wallet address and mining pool settings before you start mining. The user interface also allows you to customize settings and can be upgraded to new releases from Bitmain.
Specifications
| | |
| --- | --- |
| Manufacturer | Bitmain |
| Model | Antminer S9 (14Th) |
| Release | November 2017 |
| Size | 135 x 158 x 350mm |
| Weight | 4200g |
| Chip boards | 3 |
| Chip name | BM1387 |
| Chip size | 16nm |
| Chip count | 189 |
| Noise level | 85db |
| Fan(s) | 2 |
| Power | 1372W |
| Wires | 10 * 6pins |
| Voltage | 11.60 ~13.00V |
| Interface | Ethernet |
| Temperature | 0 - 40 °C |
| Humidity | 5 - 95 % |
Minable coins










Notes:
AS WITH ALL CRYPTOCURRENCY MINING EQUIPMENT THERE ARE RISKS INVOLVED, WE DO THE BEST WE CAN TO PROVIDE ACCESS TO MINING EQUIPMENT AVAILABLE, BUT DO NOT AND CAN NOT GUARANTEE THAT ANY EQUIPMENT WILL BE PROFITABLE, ALL PROFIT/LOSS POTENTIAL MUST BE DETERMINED BY THE PURCHASER OF ANY OF THIS TYPE OF EQUIPMENT. HOWEVER, PROPER DECISIONS REGARDING MINING EQUIPMENT CAN BE SAFE AND PROFITABLE, THIS IS THE SOUL RESPONSIBILITY OF THE  BUYER/OWNER OF SAID EQUIPMENT AND NOT HASHDEPLOY.NET AND ITS AFFILIATES 
Please allow 30 day delivery time on all preorders depending on batch and ship dates, next day shipping once received from manufacturer is always our goal. Once the unit is signed for you own it and are responsible for the equipment. No warranties besides manufacturer's, the seller assumes no responsibility for equipment once delivered.