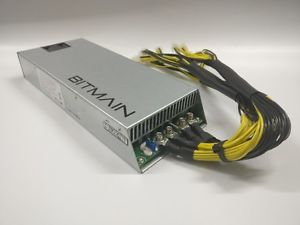 Bitmain APW7 Power Supply
Regular price $2,000.00 Sale
Ships Now $200 each MOQ 10
1. The power cord is not included, please find one with at least 10A from your local market.
2. The APW7 can deliver a maximum power of only 1200W if it is connected to a 110V mains power supply. To obtain the rated power of 1600W, the APW3++ must be connected to a 220-240V mains power supply. Please check the mains power supply that is the standard in your region before ordering.
3. This batch of PSU comes with only 10 PCIe connectors so cannot be used with more than one Antminer L3+ miner.
4. The shipping for this batch will start soon after 2nd January 2018, depending on when the units are ready to ship out and your position in the order queue.
5. 
All items added to cart are shipped according to the item with the latest shipping date in the cart
. If you would like to receive an item earlier, please place a separate order for it.
6. Be sure to keep the original packing on hand when you get PSU, the original box should be used to return the PSU when you requesting RMA. Otherwise, it won't be honored.
Specifications
Output

DC Voltage

12.15V

Rated Current
(220V input)

133A

Rated Current
(110V input)

100A

Rated Power
(220V input)

1600W

Rated Power
(110V input)

1200W

Ripple & Noise

<1%

Voltage Regulation

<2%

Source Regulation

<1%

Load Regulation

<1%

Setup, Rise Time

<2S

Power off Protection Trip Time

>9mS

Interface Type
 5 pairs of 6 pin PCI-E connectors (i.e. 10 connectors)

Noise Level

 <43DB

Input

Voltage Range

100-240V AC

Starting Voltage

95-105V AC

Frequency Range

47-63Hz

Power Factor

>0.95 (full load)

Leakage Current

<1.5mA (220V 50Hz)

Protection

Low-voltage Input

80-89V AC

Output Short Circuit

Yes

Output Overcurrent

134-185A max.

Overheat Protection

Yes

Environment Conditions

Operating Temperature

-20°C - 50°C

Operating Humidity

20% - 90% relative humidity (non-condensing)

Structure

Dimensions

220mm*108mm*62mm

Cooling

Fan

Forced-air cooling
AS WITH ALL CRYPTOCURRENCY MINING EQUIPMENT THERE ARE RISKS INVOLVED, WE DO THE BEST WE CAN TO PROVIDE ACCESS TO MINING EQUIPMENT AVAILABLE, BUT DO NOT AND CAN NOT GUARANTEE THAT ANY EQUIPMENT WILL BE PROFITABLE, ALL PROFIT/LOSS POTENTIAL MUST BE DETERMINED BY THE PURCHASER OF ANY OF THIS TYPE OF EQUIPMENT. HOWEVER, PROPER DECISIONS REGARDING MINING EQUIPMENT CAN BE SAFE AND PROFITABLE, THIS IS THE SOUL RESPONSIBILITY OF THE  BUYER/OWNER OF SAID EQUIPMENT AND NOT HASHDEPLOY.NET AND ITS AFFILIATES 
Please allow 30 day delivery time on all orders depending on batch and ship dates, next day shipping once received from manufacturer is always our goal. Once the unit is signed for you own it and are responsible for the equipment. No warranties besides manufacturer's, the seller assumes no responsibility for equipment once delivered.