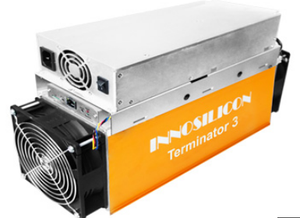 Innosilicon T3 43Ths W/PSU
Regular price $2,150.00 Sale
Ships August 2019.
The Innosilicon Terminator3 miner adopts innovative architecture to generate powerful SHA256 43TH/s (± 5%) hash rate with only 2100W (+/- 10%). The 48.83W/TH performance is pushing the limit and will give you the unbeatable advantage in mining in the foreseeable future among all technologies.
INNOSILICON T3 is designed to be the long lasting product with many improvement over its predecessors for longevity. It adopts the state-of-the-art technology with the innovative dynamic frequency scaling and extra cooling system for added efficiency and reliability. Yes, the miner is built for improved durability.
Hashrate:43TH/s (+/-5%)
Power Consumption:2100W ( +/- 10%, normal mode, at the wall, with 93% efficiency PSU, 25°C temperature )
Dimensions:Single Tube, 430mm(L)*141mm(W)*220mm(H)
Net Weight:10.02KG
Ambient Temperature:0-40°
Network Connection:Ethernet
Note:ASIC Boost Enabled with a proper license

Notes:
AS WITH ALL CRYPTOCURRENCY MINING EQUIPMENT THERE ARE RISKS INVOLVED, WE DO THE BEST WE CAN TO PROVIDE ACCESS TO MINING EQUIPMENT AVAILABLE, BUT DO NOT AND CAN NOT GUARANTEE THAT ANY EQUIPMENT WILL BE PROFITABLE, ALL PROFIT/LOSS POTENTIAL MUST BE DETERMINED BY THE PURCHASER OF ANY OF THIS TYPE OF EQUIPMENT. HOWEVER, PROPER DECISIONS REGARDING MINING EQUIPMENT CAN BE SAFE AND PROFITABLE, THIS IS THE SOUL RESPONSIBILITY OF THE  BUYER/OWNER OF SAID EQUIPMENT AND NOT HASHDEPLOY.NET AND ITS AFFILIATES 
Please allow 30 day delivery time on all preorders depending on batch and ship dates, next day shipping once received from manufacturer is always our goal. Once the unit is signed for you own it and are responsible for the equipment. No warranties besides manufacturer's, the seller assumes no responsibility for equipment once delivered.