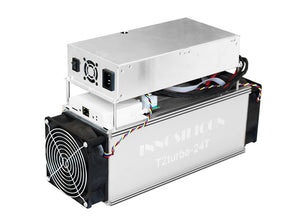 Innosilicon T2T 24 TH/s
Regular price $2,260.00 $1,650.00 Sale
Ships Now
Innosilicon, the worldwide leader of crypto currency mining ASIC manufacturer, unveiled another 10nm innovative SHA256 miner, the T2Turbo miner, which is a leap forward in the current hot contested BTC mining market. This new product again showcases the Innosilicon's engineering capacity to deliver the most advanced mining ASIC miners nonstop.
INNOSILICON T2Turbo Miner is the new generation BTC mining product. Just as our Terminator 2 (T2), it adopts the state-of-the-art semiconductor technology with the innovative dynamic frequency scaling architecture for added efficiency and reliability.
Hashrate:24TH/s (+/-5%)
Power Consumption:1980W (+/-10%, normal mode, at the wall, with 93% efficiency PSU, 25°C temperature )
Chip Type:INNOSILICON T2 Turbo Miner
Dimensions:408mm(L)*135mm(W)*232mm(H)
Net Weight:8.82KG
Ambient Temperature:0°C—85°C (device junction temperature)
Network Connection:Ethernet
Innosilicon T2 Turbo(T2T) is fully tested and open for order now! Delivery starts from 15th August to 25th August. T2T running Demo is as below, please enjoy!