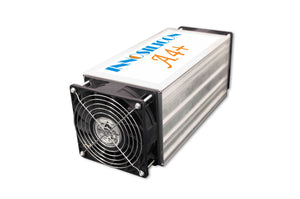 Innosilicon A4+ LTCMaster 620 MH/s
Regular price $3,450.00 $1,450.00 Sale
Ships Now
Our partnership with Inno saves you on shipping costs and headaches!
Brand new 620MH/ 750W A4+ is available now, limited quantity in stock.
Surpassing its predecessor by a big margin, A4+ reaches a spectacular
620Mh/s (+/- 8%)
, with
750W (+/- 8% @25℃)
at the wall, offer its customers best mining competitive advantage, significantly
lower operating cost, higher ROI
and longevity. It has a
small form factor
,
low noise
,
better quality and more reliable
, designed to win and possess best ever resell values.
Part Number:INNOSILICON A4+ LTCMaster
Hashrate:620Mh/s (+-8% performance, can be over-clocked at user's risk)
Power Consumption:750W (+/-8%, normal mode, at the wall, with 93% efficiency PSU, 25°C temperature )
Size:(L)350mm*(W)125mm*(H)155mm
Net Weight:4.2KG (without PSU)
Voltage:+12V
Required rated PSU:1000W or above, 9 * PCI-E 6Pin
Cooling:air-cooled with 2 fans
Internet connection:Ethernet
Power supply connection:2 PCIE port per power board.
5 Unit Minimum
The Innosilicon A4+ LTCMaster is fully proven and new batch is coming! Limited quantity with superior 6 months' warranty. The demo video is as below,please enjoy.
Minable coins










Notes:
AS WITH ALL CRYPTOCURRENCY MINING EQUIPMENT THERE ARE RISKS INVOLVED, WE DO THE BEST WE CAN TO PROVIDE ACCESS TO MINING EQUIPMENT AVAILABLE, BUT DO NOT AND CAN NOT GUARANTEE THAT ANY EQUIPMENT WILL BE PROFITABLE, ALL PROFIT/LOSS POTENTIAL MUST BE DETERMINED BY THE PURCHASER OF ANY OF THIS TYPE OF EQUIPMENT. HOWEVER, PROPER DECISIONS REGARDING MINING EQUIPMENT CAN BE SAFE AND PROFITABLE, THIS IS THE SOUL RESPONSIBILITY OF THE  BUYER/OWNER OF SAID EQUIPMENT AND NOT HASHDEPLOY.NET AND ITS AFFILIATES 
Please allow 30 day delivery time on all preorders depending on batch and ship dates, next day shipping once received from manufacturer is always our goal. Once the unit is signed for you own it and are responsible for the equipment. No warranties besides manufacturer's, the seller assumes no responsibility for equipment once delivered.