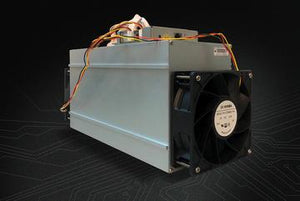 Imperium V2 by Monad
Regular price $2,700.00 Sale
This is the Imperium V2 miner by Monad. Currently is the Best Performing Miner for mining 

Nervos (CKB).
The FPGA mining board, Imperium V2 has three FPGA hashing boards. There are four KU040 FPGA chips on each board, which runs at 1.0V core voltage. Imperium miner has a dedicated core power supply with a maximum load up to 60A. Bitstream is configured via a serial interface which is driven by a controller board. Each board has a micro-controller chip to chain four FPGA devices. This FPGA mining board looks similar to ASIC and has a similar interface with ASIC miner.

Board temperature can be monitored instantly by the host board with the onboard sensor. Fan cooling is supported. Power indicator LED, FPGA configured LED, and Mining status LEDs are available onboard.

CKB Hashrate and Power:
750 W
23.4 GH/s
32 W per GH
Board Specifications:
Kintex UltraScale KU040 (x12 chips)

Board Management Controller (i.e BMC)

Micro-SD card slot on BMC for OS and storage

Ethernet interface

Copper Heat pipe

Fan-cooled
Notes:
AS WITH ALL CRYPTOCURRENCY MINING EQUIPMENT THERE ARE RISKS INVOLVED, WE DO THE BEST WE CAN TO PROVIDE ACCESS TO MINING EQUIPMENT AVAILABLE, BUT DO NOT AND CAN NOT GUARANTEE THAT ANY EQUIPMENT WILL BE PROFITABLE, ALL PROFIT/LOSS POTENTIAL MUST BE DETERMINED BY THE PURCHASER OF ANY OF THIS TYPE OF EQUIPMENT. HOWEVER, PROPER DECISIONS REGARDING MINING EQUIPMENT CAN BE SAFE AND PROFITABLE, THIS IS THE SOUL RESPONSIBILITY OF THE  BUYER/OWNER OF SAID EQUIPMENT AND NOT HASHDEPLOY.NET AND ITS AFFILIATES 
Please allow 30 day delivery time on all preorders depending on batch and ship dates, next day shipping once received from manufacturer is always our goal. Once the unit is signed for you own it and are responsible for the equipment. No warranties besides manufacturer's, the seller assumes no responsibility for equipment once delivered.